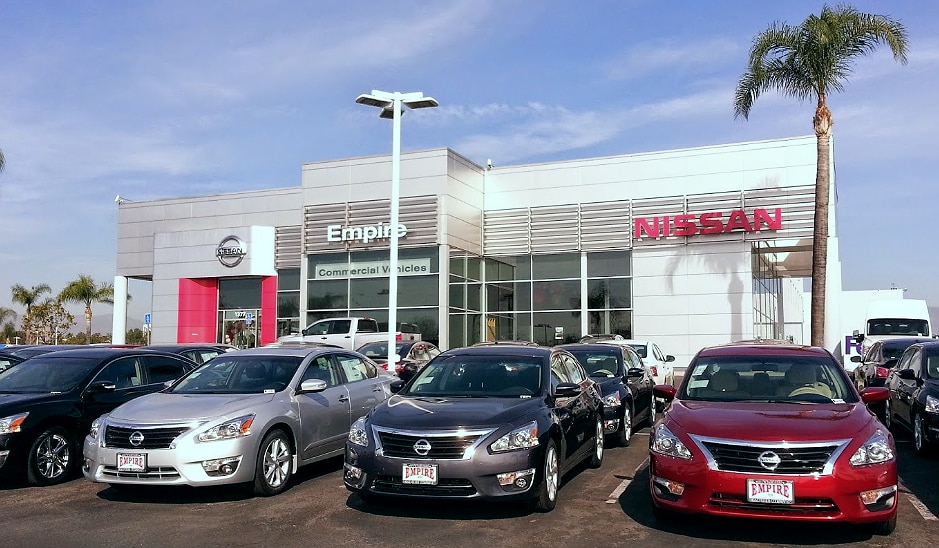 Directions from San Bernardino, CA to Empire Nissan
Living in a bustling city like San Bernardino has its perks. You're only a short drive away from the natural beauty of Mt. San Antonio and San Gorgonio Mountain, and the beach isn't that far away, either. While you have plenty of great attractions to see on foot, you might need a sedan such as a 2022 Nissan Sentra or SUV such as the 2022 Nissan Pathfinder or midsize pickup truck such as the 2022 Nissan Frontier, when you want to swing by the First Original McDonald's Museum for a bite to eat and a glimpse at fast- food history or cool off with friends and family at Splash Kingdom Waterpark. Empire Nissan in nearby Ontario has the vast selection of new and pre-owned vehicles you're looking for, including the new Nissan Altima midsized sedan.The legendary Nissan GT-R is the perfect sports car to cut loose on the Rim of the World Highway, with plenty of opportunities along the way to enjoy the breathtaking scenery.
You'll have plenty of cargo space to spare in the 2022 Nissan Murano when you want to pick up a few things at Inland Center or Mountain Grove Shopping Center in nearby Redlands. For those tough jobs in and around town that call for a tough pickup truck, the new midsize Nissan Frontier and Nissan Titan both fit the bill.
You won't have any difficulty in finding Empire Nissan, as it is located just a short 25-minute drive away from the heart of San Bernardino:
From West 5th Street heading west, take Interstate 215 South and follow the interstate for approximately 1 mile.
At Interstate 10, take the westbound exit and follow the interstate for about 18 miles. 
At Interstate 15, take the southbound ramp and follow the interstate until you reach Exit 108.
  Take the off-ramp at Exit 108 and make a left on East Jurupa Street. 
Head east on East Jurupa Street for approximately 1/2-mile until you reach the Auto Center Drive intersection.
  Turn left on Auto Center Drive and then make another left on Kettering Drive. 
Follow Kettering Drive until you see our dealership on the right.
Contact our Sales Department at Phone Number (909) 740-6712, and our experienced and courteous sales will find the right Nissan car, truck, or SUV you are seeking. Our Auto Service Department can handle anything your new or pre-owned Nissan needs, whether it's routine scheduled maintenance or more in-depth jobs. Schedule your next appointment with our highly trained technicians at (909) 740-6715 or use our convenient online form. Whenever you need genuine OEM Nissan auto parts, get in touch with our Parts Department at (909) 740-6719.
Make Empire Nissan your one-stop destination for the right car, truck, or SUV to make your San Bernardino experience an unforgettable one.