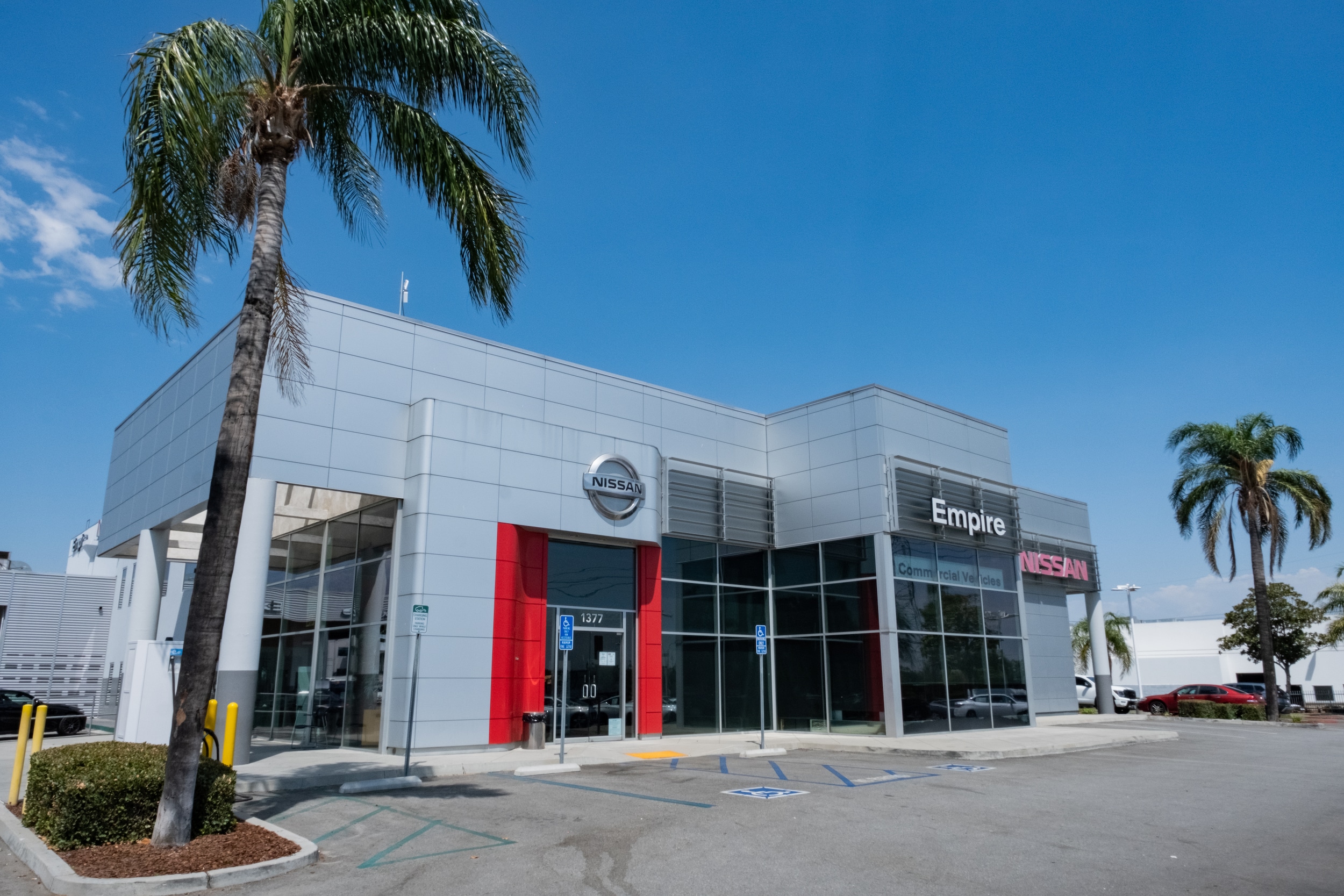 Nissan Dealership Near San Bernardino, CA
Are you shopping for the Perfect Nissan near San Bernardino?
Empire Nissan offers you a wide selection of new and certified pre-owned vehicles designed to complement the energy and elegance of your hometown.
We're committed to giving you the best car buying experience from start to finish.
Located at 1377 Kettering Drive in Ontario our showroom and lot provide a sneak peek at all the latest Nissan releases. 
The sales team is happy to answer any questions that you might have. If you see a model that particularly grabs your attention, we can schedule a test drive at your convenience.


New Nissan Cars, Trucks, and SUVS for sale Near San Bernardino, CA
Our available inventory is full of new Nissan cars, trucks & suvs for sale. Find the latest models to test drive or talk with our sales staff to find the car of your dreams. We'll work to find you the perfect new car. 
Ask about trading in your old car for an extra discount. Don't forget to see if there are any specials going on!
At Empire Nissan we have the most popular Nissan models for sale in our inventory, including:


Used & Certified-Pre Owned Nissan Cars, Trucks, and SUVS for sale Near San Bernardino, CA
We also have one of the largest pre-owned Nissan car, truck, & SUV inventories available. In addition, we also carry used cars from different manufacturers that you can test drive on the lot. 
We have certified pre-owned Nissan cars, trucks & suvs for sale which are guaranteed great used cars by our dealership. Certified cars are each put through a detailed inspection process and come backed by an Unlimited Mileage Protection Plan for 1-year.


Nissan Financing Near San Bernardino, CA
If you're looking for finance assistance or advice, our team of experts at our
Nissan finance center
can help you. We offer financing and financial plans for both new and used/pre-owned cars.
Nissan Specials Near San Bernardino, CA
We have a collection of specials for anyone to take advantage of. Check out our new Nissan specials guaranteed to give you a great deal on a Nissan.
We also have Nissan pre-owned specials which is one of the best ways to start driving a Nissan today.


Nissan Auto Service Center & Repair Department Near San Bernardino, CA
For any Nissan service or repairs you may need to visit our
Nissan service center
. Our trained technicians can offer advice, guide you, and make repairs on any issue that comes up.
The goal of our service center is complete satisfaction, which is what you'll get when you come in for a service or repair. 
Nissan Auto Parts & Accessories Near San Bernardino, CA
If you're looking for Nissan parts and accessories for your ride, our Parts Department is open to assist. It's easy to get new parts for your Nissan, call the Parts Department at  (909) 850-5045 to check on inventory or order genuine Nissan parts for pickup or delivery.


Directions to Empire Nissan From San Bernardino
You won't have any difficulty in finding Empire Nissan, as it is located just a short 25-minute drive away from the heart of San Bernardino:
From West 5th Street heading west, take Interstate 215 South and follow the interstate for approximately 1 mile.
At Interstate 10, take the westbound exit and follow the interstate for about 18 miles. 
At Interstate 15, take the southbound ramp and follow the interstate until you reach Exit 108.
  Take the off-ramp at Exit 108 and make a left on East Jurupa Street. 
Head east on East Jurupa Street for approximately 1/2-mile until you reach the Auto Center Drive intersection.
  Turn left on Auto Center Drive and then make another left on Kettering Drive. 
Follow Kettering Drive until you see our dealership on the right.
Contact our Sales Department at Phone Number (909) 740-6712, and our experienced and courteous sales will find the right Nissan car, truck, or SUV you are seeking. 
Make Empire Nissan your one-stop destination for the right car, truck, or SUV to make your San Bernardino experience an unforgettable one.