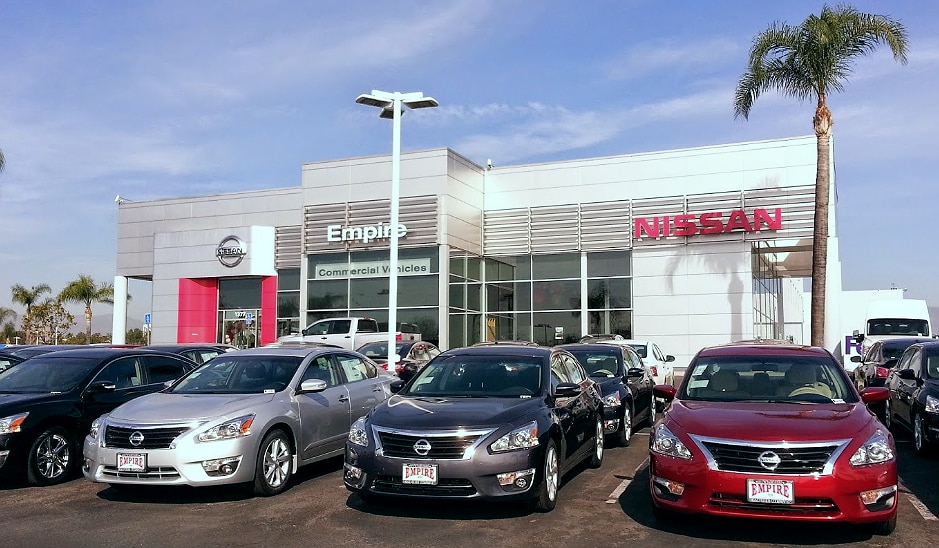 Directions from Pomona, CA to Empire Nissan
Pomona is one of the best cities in our community. From the historic architecture to the legendary L.A. County Fairgrounds, Pomona indeed does have it all. 
If you want a vehicle that can manage a city with so much to offer with the versatility of the 2022 Nissan Kicks. Pomona offers so much to our local community. There seems like there is no better way to enjoy all of the sun and fun of this city than with a 2022 Nissan Pathfinder. This SUV is the perfect vehicle for cruising sunlit streets or challenging Mount Baldy off in the distance. 
We've been proud to be a neighbor to the wonderful city of Pomona for years. Pomona is a city defined by its continent to arts and culture. The historic Phillips Mansion, Pomona Fox Theater, and murals like Pomona Envisions the Future truly make this a cosmopolitan city. The new Nissan Leaf is the perfect choice for drivers wanting something that blends into this refined town. Pomona is also known for its hard-working community. You'll find powerful vehicles like the 2022 Nissan Frontier for your work and travels around Pomona. 
Getting to Empire Nissan from Pomona is about as easy as it gets and is located 20 minutes east:
Head East on I-10 E

Take exit 58B to merge onto I-15 S Ontario Fwy

Take exit 108 and turn left onto east Jurupa 

Make a left onto Auto Center Drive followed by another left onto Kettering Drive 
If you want to buy a new or used car, truck, or SUV that will keep you living your life as you wish, get in touch with our friendly sales folks by calling (909) 740-6712. The professional mechanics are just a phone call away at (909) 740-6715. If you are a fan of DIY projects, the auto parts department has everything you need, whether you are doing minor repairs to transforming your vehicle into a performance machine. Get in touch with our parts experts at (909) 740-6719. 
At Empire Nissan, we like to think of ourselves as part of the Pomona community. If you have any questions about your vehicle or want to find out more about the latest Nissan models, visit us today.