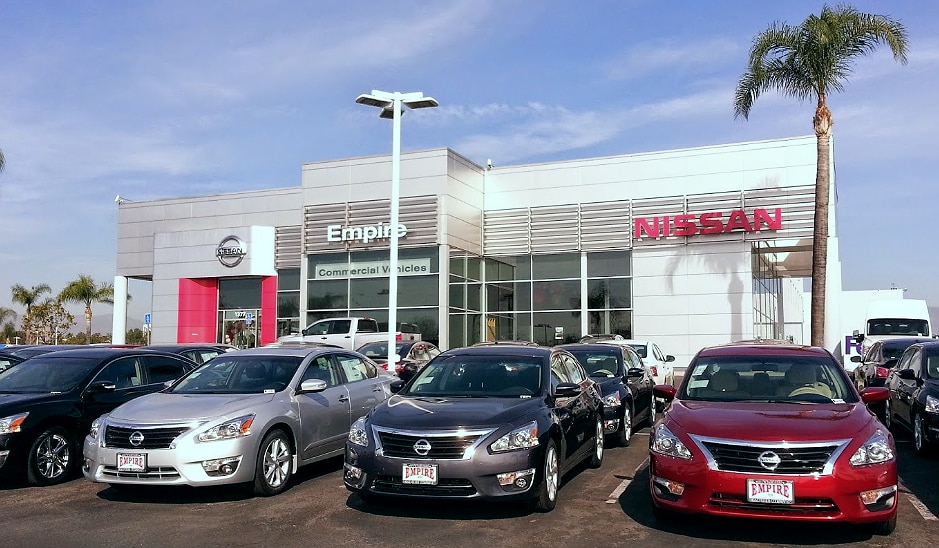 Directions from Corona, CA to Empire Nissan
As the affordable alternative to Southern California's high-priced cities, Corona appeals with an ethnically diverse population, over 394 acres of parks and recreational areas, and a heritage that encompasses than a century. Your parents will enjoy the lectures, movie matinees, and travel programs held by the Senior Center at South Belle Avenue. When you need to remind the little ones that their food doesn't grow in a grocery store, take them to Tom's Farms, where they can ride the ponies and train while you shop for the freshest produce. Do you want a relaxing day away from it all but still close to home? Then soothe yourself with the restorative treatments and healing waters of Glen Ivy Hot Springs Spa.
You'll need a vehicle to get to all these destinations efficiently. Looking for comfortable family travel around West Sixth or South Main Streets? The 2022 Nissan Pathfinder® surrounds your loved ones with safety tech on every trip. Do you need a classy sophisticate to accompany you to work every day? The 2022 Nissan Armada® comes with a 7-speed automatic transmission to give you ample acceleration and up to 8,500 pounds of towing capacity. The 2022 Nissan Maxima® gives you advanced engineering at a budget-friendly price. Do you want a truck that's powerful at work or play? The 2022 Nissan Frontier® is midsize that tows up to 6,720 pounds when properly equipped.
Whatever you decide on can be dressed up with manufacturer-approved accessories from our Parts department, which you can contact at (909) 740-6715. You can ensure that your vehicle gives you its best performance by taking it in for regularly scheduled maintenance at our Service department. Appointments are available through (909) 740-6715. Your issues will be taken care of expertly and efficiently by our team of factory-trained automotive technicians. If you're in a hurry, no appointment is needed for our Express Service. Just make your purchase in for a quick oil and filter change, tire rotation, battery service, air filter or wiper blade replacement, or multi-point vehicle inspection.
Getting to the dealership at 1377 Kettering Drive in Ontario from Corona City takes just over 20 minutes:
From North Main Street, head east on State Highway 91.
Stay right on the fork and follow the signs for Interstate 15 toward Barstow.
Merge onto I-15 North and continue for 12.5 miles north.
Take Exit 108, Jurupa Street.
From the middle lane, turn right on East Jurupa Street.
Turn left on Auto Center Drive.
Then make a turn left on Kettering Drive.
Empire Nissan will be on your right. Should you need more information or additional directions, call our Sales department at (909) 740-6712.
Here are the Corona directions to the dealership.