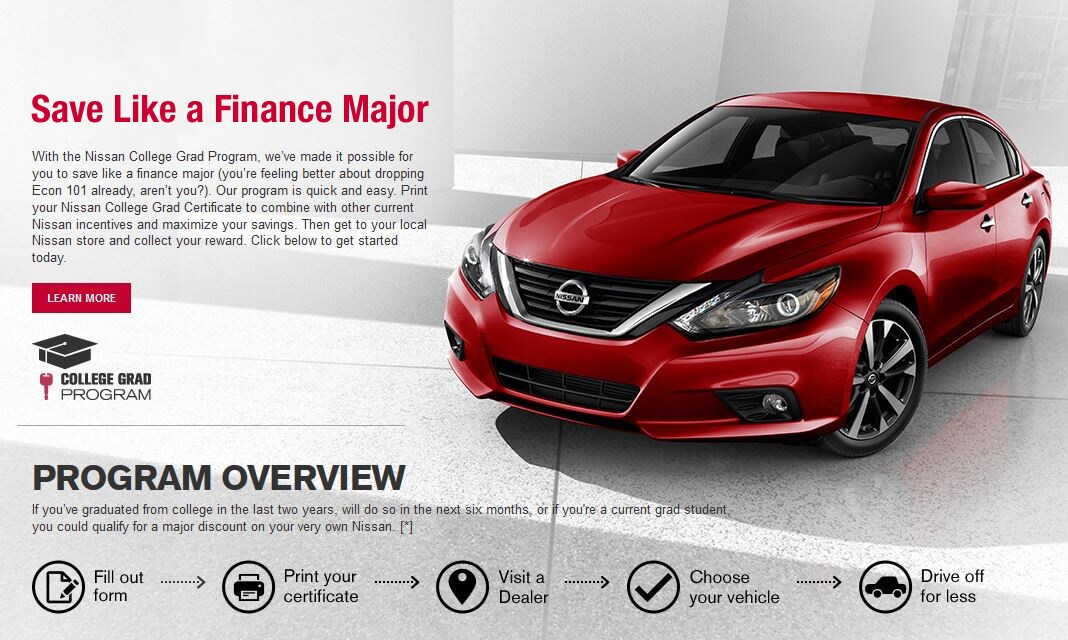 Self:
Eligibility:
Eligible College Grad up to 6 months prior to graduation date or 2 years after graduation date
Nissan College Grad participants must reside in the continental United States, Hawaii, or Alaska
Proof of Eligibility Required:
College Transcript/Diploma or graduate school enrollment status matching the College Institution
Additional Details:
1 Claim ID for personal use in the college grad's name
Click HERE to get your VPP certificate from Nissan



* Qualifying accredited schools include two or four year universities, colleges, or graduate and nursing schools in the United Sates.
FAQs
Who qualifies under the College Grad Vehicle Purchase Program and what type of Proof of Education is required?
You will qualify for the College Grad VPP if you meet the following criteria:
Graduation within six months or past two years from an accredited United States two or four year university, college, graduate school or nursing school
Students currently enrolled in graduate school are eligible
Present employment or future employment beginning within 90 days of financing approval
Sufficient income to cover normal living expenses and car payments
Valid auto insurance
Approved credit
College Grad participants will need to provide the following Proof of Education when purchasing their vehicle:
Nissan College Grad Claim Form
Proof of graduation within the past 24 months or written confirmation of upcoming graduation within the next six months.
Proof of current or future employment that begins within 90 days
Proof of Insurance
How many VPP claim IDs can I get?
College Grads can issue one claim for personal use.
How do I finance a vehicle purchased or leased through VPP and are there special rates offered for VPP customers?
Financing is handled the same way it is with non-VPP purchases. If you choose to finance through the dealership, normal credit standards apply. Your Dealership can assist you with the most current offers.
Are all Nissan and Infiniti vehicles eligible for the VPP discount?
No. Only new Nissan Altima, Rogue, Sentra, Versa Note, Versa Sedan (excluding S trim), Juke, LEAF, Xterra, Frontier, and Cube models are eligible.
Can a dealer refuse to honor the VPP discount?
Yes. Please remember, our Nissan and Infiniti dealers are valued business partners/internal clients, but not obligated to participate in the VPP program offers.
How much will the vehicle I'm interested in cost?
You can view VPP pricing during the Claim Generation process based on dealer inventory or contact your local dealer for specific model pricing. Please note that any dealer-installed accessories are negotiable between you and the dealership. There is no pre-negotiated VPP price for dealer-installed accessories.
How can I find out what incentives are offered on the vehicle I'm interested in?
For information on current vehicle incentives, contact your Nissan or Infiniti dealer.
Can the value of my trade-in be used to further reduce my purchase price?
No. The value of a trade-in can be used to pay for your vehicle purchase, but it cannot be used to determine your purchase price. Your trade-in must be handled as a transaction separate from the VPP price calculation.
Can the dealer charge me a documentation fee with VPP?
Yes, the documentation fees should be the standard charge for all customers, including VPP customers.
Can I transfer my Claim ID to another person?
No. Claim IDs can only be used by the person they are issued to, and the name on the sales contract written at the dealership must match.
How long is the Claim ID valid?
A claim ID is valid for 45 days. If your Claim ID expires, you can generate a new one as long as you are within your allotted claims.