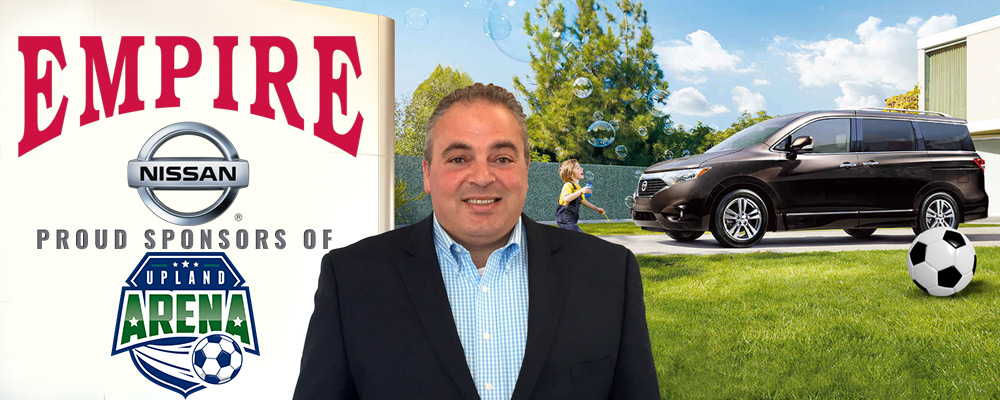 Enter To Win!
Here at Empire Nissan, we are inspired to live a healthy lifestyle, staying active and motivating our community and customers to do the same!
To encourage you into playing, we are holding a drawing on April 24, 2017. One lucky random winner will receive a soccer ball and Soccer socks! To enter the drawing, just click on the button below.
Whether you love the sport or are currently part of a team, we want to see your kids, teens and even yourself in uniform on the Empire Nissan Facebook page. So, post your picture on our page in the comments section with your family or you out there on the field or in your uniform.
Stay active, and be part of our thriving community!
Visit Empire Nissan's Facebook Page to Enter
Join us today!
Join Empire Nissan's General Manager and get into the spirit of fitness with a drawing to win a prize for soccer gear. Empire Nissan in the Inland Empire is a proud sponsor of the Upland Arena located at 1721 W. 11th Street in Upland. You will find the arena has a palatial 70,000 square foot indoor sports complex with 4 turf soccer fields and offers recreational youth programs such as competitive Adult Soccer League and Dodgeball, or the Child Development Lil' Kickers Program. The Upland Arena is also available for field rentals, parties, and events. The facility has the full-service Arena Pub & Grill to help keep life simple, so all you have to bring is yourself and your gear.